My video is centered on Charlie Yeldham, my brother. I decided to focus on him because he was gracious enough to help me with my project. Charlie realizes that prom is in a half hour and he has not started getting ready. However, after changing quickly, he leaves for prom. The video style is a video essay. I filmed this project at my house in one of the bedrooms. I chose this setting because it is logical; people usually get ready for prom at home. For this assignment, we were required to include a mirror or another reflective object. I have a mirror when Charlie is tying his bowtie; there are also mirrors in the background when he is putting on his shoes. In this instance, mirrors serve as a reminder that we can do anything, as Charlie only sees himself in the mirror after he has finished dressing. People should be interested in my video because it is an interesting and slightly humorous approach to self-motivation.

The significance of my video is to show that it is never too late to do what you want to do. People often find themselves saying that they cannot do something, but if they put their mind to it and work hard, it can be accomplished.
Powered by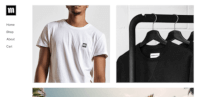 Create your own unique website with customizable templates.